Cosmint, a part of the Intercos Group and a contract manufacturer of premium skin, hair, and body care products located in Italy, works with some of the largest cosmetic brands in the industry. Recently, the company enlisted robotics automation solutions provider Siscodata to help it increase its production capacity. To this end, the systems integrator collaborated with industrial automation and robotics manufacturer Comau to develop a robotic depalletizing cell designed to clean and manipulate high-end, preprinted cosmetic bottles without leaving a scratch. Siscodata specified two Comau NJ-40 robots within the cell to pick, rotate, and clean custom-printed plastic bottles at rates to 150 pieces/min. The new cell replaces three standard machines previously used at the Cosmint facilities.
---
---
Siscodata was challenged to design the complex solution in just four and half months from start to finish, which it successfully accomplished. Says Comau, the fully integrated system protects the aesthetic quality and purity of the final product, achieves the desired production rate of 0.45 sec/bottle, and ensures mechanical, electronic, and electrical efficiency. It also enables Cosmint to trust that the end customer receives a product free from contamination and is 100% compliant to their quality standards.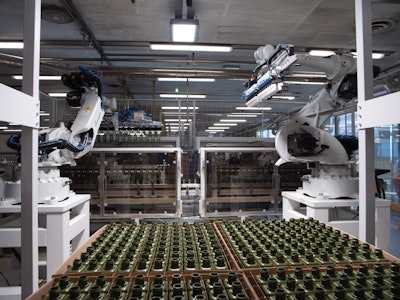 The automated depalletizing solution features two Comau NJ-40 six-axis articulated robots that Comau says guarantee the speed, precision, and repeatability the application requires. With the help of special grippers and a high-resolution 2D camera, each robot picks a series of bottles from the partitioned cases used for shipping. Working in tandem at fast speeds, the robots rotate the bottles before moving them to a cleaning station to remove more than 99% of residual particles or contaminants left over from the production, shipping, and depalletizing process. This part of the solution is quite complex and requires synchronized, "on-the-fly" movements by the medium-payload (up to 40 kg) robots to handle a production rate of more than 9,000 bottles/hr.
Says Francesca Grieco, Engineering Manager at Cosmint, "We are particularly satisfied with the Comau robots, which have allowed us to reach our target of creating a system that is 100% reliable from a performance, quality, and electromechanical standpoint, and will guarantee the exceptionally high cleanliness standards specified by our end customer."
According to Comau, the solution is fully adaptable to different industries and payloads. 
---
---
Related Posts