The speediest way to update classics, the new jewelry trends 2023 will make old favorites feel fashion-forward in an instant. Here's what experts predict will be big next season – in all senses of the word.
The runways of New York, Paris, London and Milan are about so much more than the clothing. The source of inspiration for the fashion trends 2023, the looks on the runways were accessorized to the max, showcasing the jewelry trends 2023 too. And when it comes to next season, jewelry is set to be bigger and bolder. Held twice a year, usually in February and September, the runway shows help to dictate the trends we will see in straight-to-market and designer stores in six months time. If you've nailed a minimalist capsule wardrobe, updating your look with the latest accessories is a quick way of making any piece feel modern, making the jewelry trends 2023 well worth taking note of.
After a couple of low-key years, designers went in for jewelry and accessorizing in a big way, celebrating the idea of getting dressed up and really honing in on the details. From chunky arm cuffs at Chanel to shoulder-grazing disco ball earrings at Tom Ford, the jewelry trends of 2023 is for those who want to make a statement. When it comes to materials, look out for a mix of mediums, there were lots of different metals and elements featured, as silver makes a return from the jewelry abyss and pearls get a fashionista makeover.
8 JEWELRY TRENDS 2023 TO INVEST IN NEXT SEASON
Similarly to the newt shoe trends 2023 and handbag trends 2023, jewelry serves to reinvigorate a look and can make your classic little black dress look and feel like a whole new outfit, without having to buy a new dress. Although much of your current jewelry collection might have sentimental value, to bring your wardrobe up to date, look to the fun and frivolous nature of the jewelry trends 2023, and inject elements in a way that works for you, even if that is via updating your eyewear with the eyeglasses trends 2023. These are the eight jewelry trends experts are predicting everyone will be wearing in 2023.
1. CHOKERS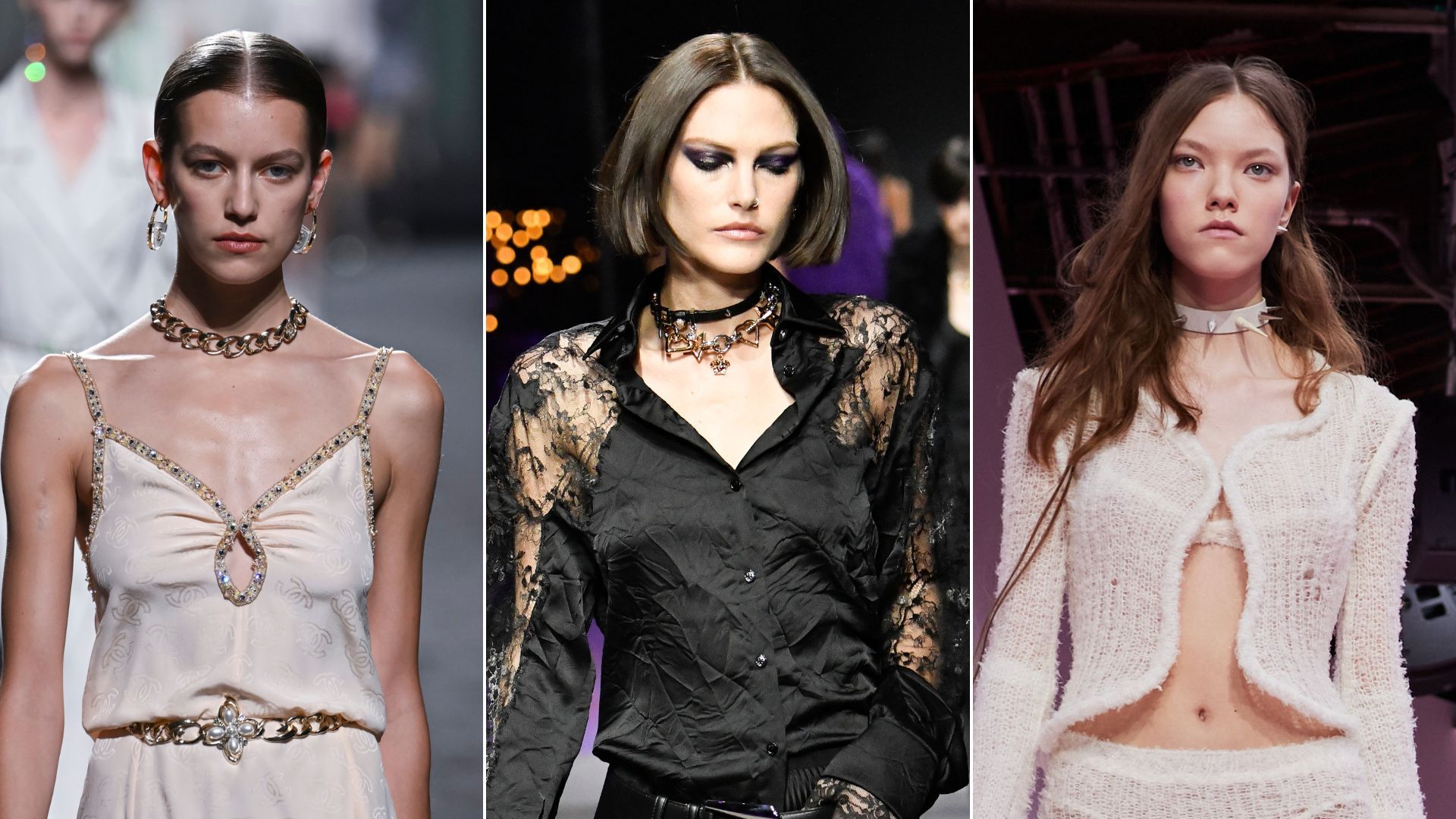 "I can definitely see chokers making a comeback," says award-winning jewelry designer and silversmith, Lucy Quartermaine (opens in new tab). "I never thought I would see the return of the '90s this year but here we are – and I am all here for it!"
While chokers are definitely one of the '90s fashion trends making a comeback, they've definitely had a twenties makeover. French clothing brand, Chanel sent heavy chain chokers down the runway, while Acne Studio gave chokers a punk makeover with the addition of supersized studs.
"You need a statement choker this season for maximum impact," says Sabine Roemer, founder of Atelier Romy (opens in new tab). "Instead of layering necklaces, the new trend is to just wear one big one that can carry any outfit from day to night."
What to look out for:
Chunky gold chains: Mr. T may be an unlikely fashion icon, but it's definitely time to channel his love for a chunky gold chain. Moschino and Chanel both went full-on heavy metal with gold chokers and it's the perfect style to dress up to your best cashmere sweater or a pretty silk blouse, as it adds interest to softer pieces.
Studs: If you're a bit of a rock and roll rebel, a studded choker is the way to go. This is not an all-out punk look though, instead, it's a great way to inject a tougher edge to more romantic pieces such as a sheer blouse or pretty floral dress.
More is more: Versace proved that layering chokers is a pretty strong statement. Look for those chokers that clash for a more boho style or team mixed metals for a very modern take on the trend.
2. ARM CANDY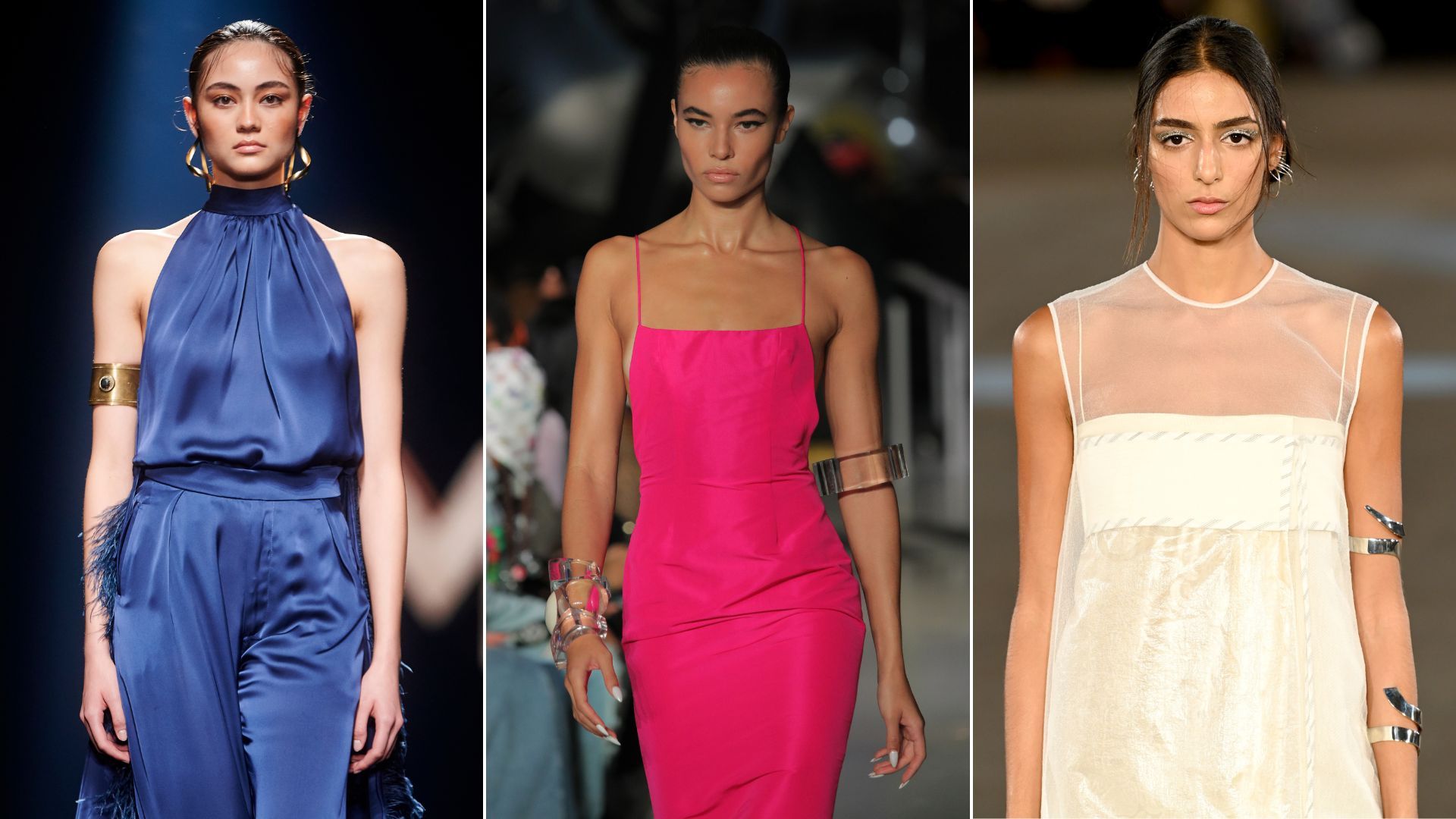 Start lifting those weights now – arm cuffs are set to be a big jewelry trend 2023.
"It's a simple single accessory that beautifully decorates your arm, specifically the bicep area," says Lucy.
A popular trend in the early Noughties, the bicep bracelet was all over the runways this season, however, they came in many different guises from sculptural silver designs at Tory Burch to Kim Shui's spiral designs that snaked up model's arms.
And this trend is set to be even more popular thanks to the versatility lies at the heart of this look says Lucy.
"This piece can be styled in so many different ways because it comes in a variety of forms," she says. "The symbolism varies by culture, but it was often a representation of empowerment."
If you don't fancy working on those biceps, stacking statement bracelets is another style option, and one that is more universally easy to add to your wardrobe. Look to the likes of Chanel and Etro for inspiration.
What to look out for:
Wearing over clothes: While arm cuffs over bare biceps are perfect for summer until then you can make like Prada and layer over jumpers. It's a great way to add some interest to a slim-fit sweater or roll-neck, your best shirt dress, or an evening blouse.
Architectural shapes: While bicep bracelets are minimal, they're still very architectural in their design. Think curved edges and wide Wonder Woman-style arm cuffs. Wear with block colors as opposed to prints to allow your arm candy to really stand out.
Chunky bracelets: If you're stacking, you've still got to go big with the bracelets. This isn't about layering lots of delicate chains, this is literally about covering your arm with chunky bracelets, whether acrylic or metal.
3. EDGY PEARLS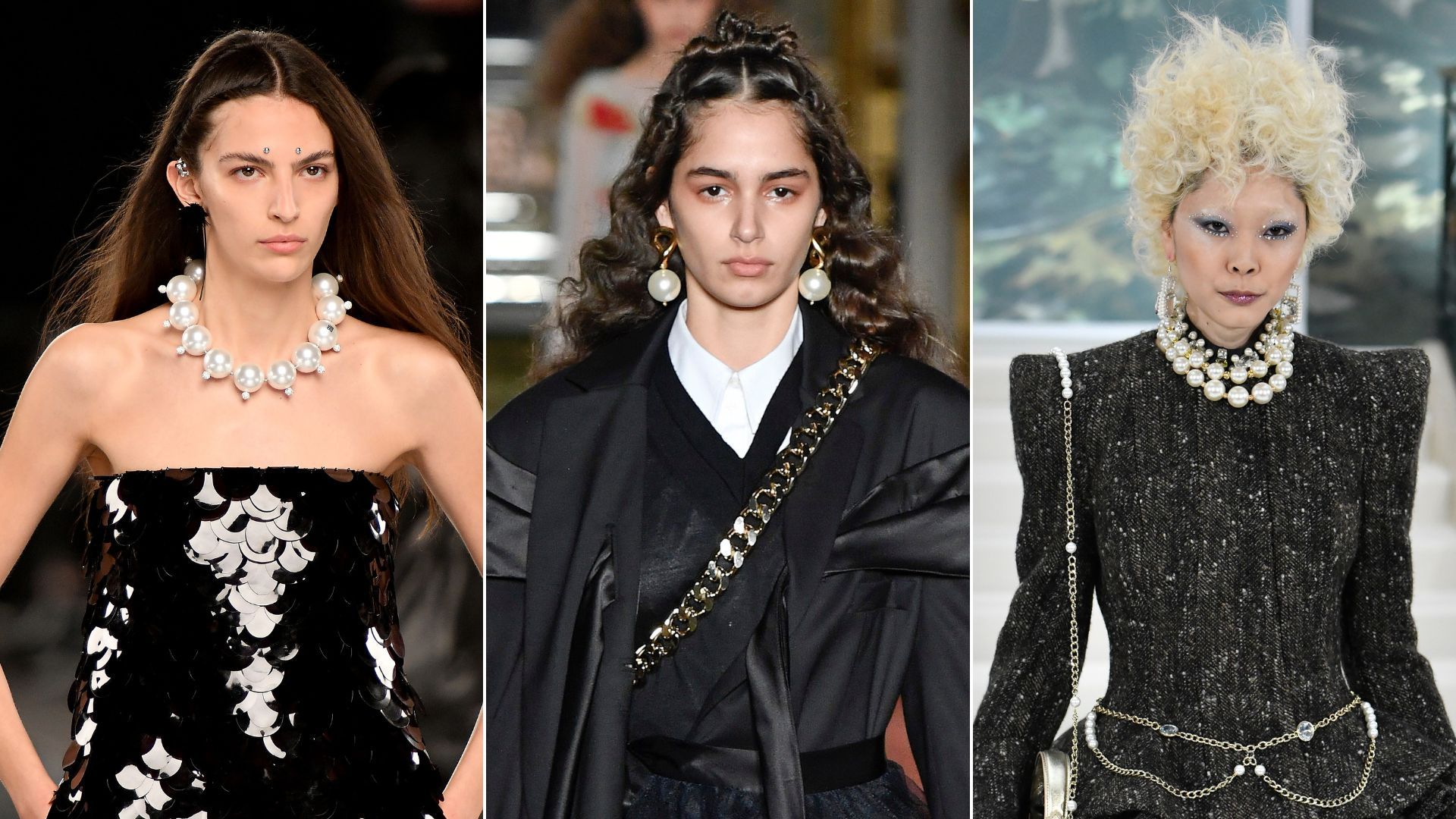 Shaking off that fusty old lady image, pearls are back – but with a 2023 remix.
"Think gleaming metal structures, statement chandelier earrings and a shirking of mass-cultured production methods to make way for traceable back-stories, 'imperfect' shapes and shades of grey, black and cream," says Arabel Lebrusan, founder of Lebrusan Studio (opens in new tab).
Givenchy sent XL pearl chokers down the runway, while Carolina Herrera went for solid gold statement earrings, adorned with dangling pearls. But remember, this new era of pearl jewelry is not made for twinsets and twee dresses, instead, think of them as the ultimate accompaniment to how to style leather pants, teaming them with a statement pearl necklace and a simple t-shirt.
"You can wear pearls with all kinds of styles, it's never wrong, just your own interpretation," says Sophia from German jewelry brand Coeur de Lion (opens in new tab) who says pearls are also set to become a big trend in men's jewelry as well.
What to look out for:
Chunky chains: Simone Rocha toughened up her pearls by weaving them through heavy chains, injecting more than a touch of modern into this old favorite. Perfect for wearing with more casual clothes, it can really add a touch of style to your best t-shirt and jeans.
Statement earrings: Whether you choose an ear cuff, a big statement earring or a solo pearl earring – asymmetry is set to be big this year as well, so don't worry about being matchy-matchy.
Layering: Chanel sent models down the runway wearing layered pearls around their necks. Try mixing up longer pearl necklaces with choker-style ones, and for good measure, throw in a silver or gold chain as well.
4. SHOULDER-GRAZING EARRINGS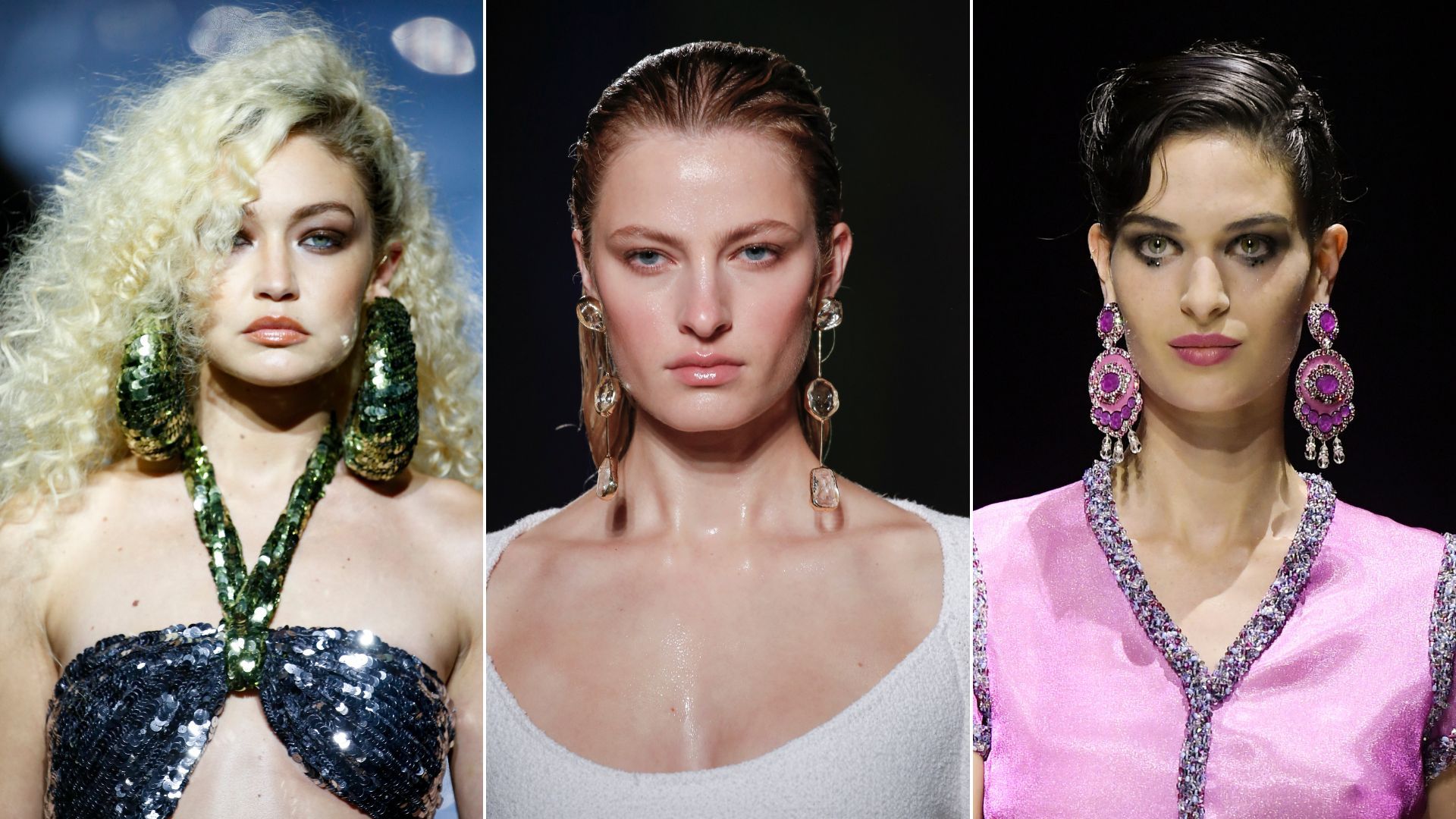 "(If) there's one accessory trend that's making a major comeback, it's got to be statement earrings that don't just touch, but fall way past your shoulders," says Lucy.
These aren't just statement earrings, these are XXL shoulder dusters. While Louis Vuitton models wore gem earrings that went to their collarbone, Tom Ford brought in the disco, sending Gigi and Bella Hadid down the runway with uber-large sequin hoop earrings.
Regardless of the style or metals used, the common factor that unites these shoulder-grazing styles is the fact that they are worn to be seen. 
Arabel believes these earrings are having their moment in the spotlight as they also frame the face so well. 
"It can be argued that no jewelry makes an impact quite like jewelry that frames its wearer's most distinctive asset – after all, the face is the window to the soul," she says.
She continues: "In line with the consumer's growing interest in jewelry that tells stories, we expect to see celebrations of artisanship; organic forms, hand-crafted techniques and the use of sustainable natural materials. "
Expect this look to be one that is easily replicated by straight-to-market brands and ideal for what to wear to a wedding come the height of summer. Just make sure that the earrings are the focal point of your look and keep your dress silhouette more streamlined.s
What to look out for:
Long drop earrings: Sleek drop earrings that fall to the shoulders or collarbone are what you're looking for here. You can be as simple or as full-on as you like, but a single line of gems or crystals is a great way to dip your toe into the trend, and a perfect match for both the best cocktail dresses or simple sweaters and jeans.
Maximalist hoops: When it comes to hoops, go big or go home. Seriously these hoops could be big enough to slip your hand through. Embellishment, solid gold or gems all work well with this trend, and although on the runway they were sent down with evening attire, they're the perfect accessory for the denim trends 2023.
Mismatched earrings: Ulla Johnson, Chloé and Erdem all sent models down the runway with one super long earring and a shorter or stud on the other ear. This asymmetric look is super easy to copy and means you can mix and match two of your favorite pairs of earrings.
5. STATEMENT PENDANTS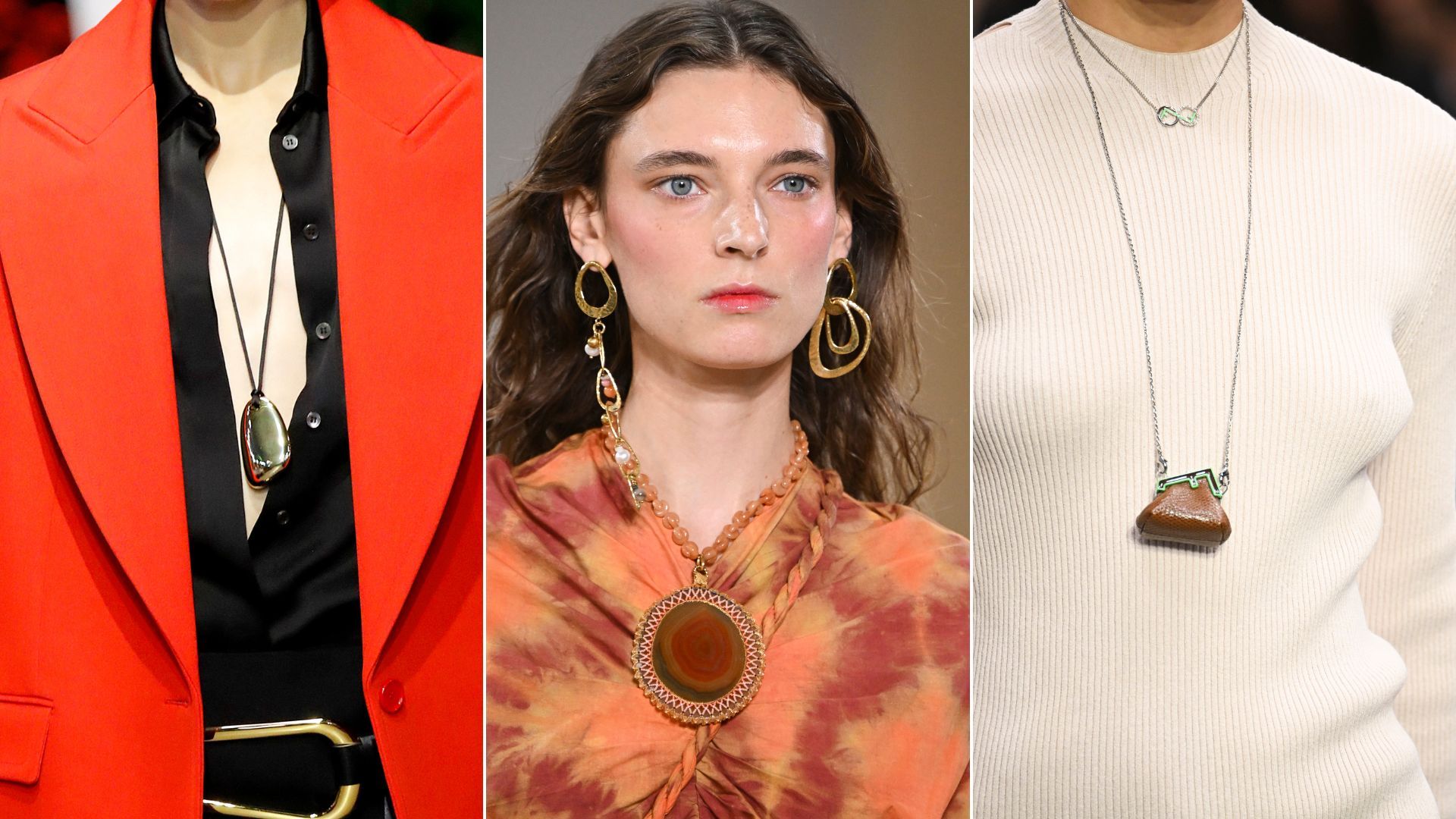 For many seasons, the trend with necklaces has been about layering lots of delicate gold chains and pendants together, and while that's a classic look that will never die, this season it's all about statement pendants.
"Fashion's current love of maximalism has hit the jewelry market, with super-sized pendants and medallions fast becoming a key trend of the season," says Lucy.
While models at Fendi wore miniature Fendi First bags on long chains, at Michael Kors it was all about the '90s cord pendant. Once a mainstay on many a celebrity, the 2023 version is longer and bigger and goes perfectly with oversized tailoring.
There was also somewhat of a hippy vibe, perfect if you're exploring bohemian style as Ulla Johnson sent down XL crystal pendants, while Coach's pendants had a DIY vibe. Pair these with paisley print long skirt outfits to really lean into the look.
What to look out for:
Layer over coats: If you want to wear this trend now, make like Coach and wear your statement pendant over your outerwear. It's perfect for winter outfit ideas and come the warmer months, you can team them with floral dresses or summer tailoring.
Craftcore: The handmade vibe is strong for the jewelry trends 2023, so either get crafting with the best jewelry-making kits or get some black cord and string your favorite items onto it, creating your own unique pendant necklaces – try shells from holidays, beads or vintage buttons.
6. SUPER SILVER
Flashes of silver glistened from the runways this season. At Jil Sander, models accessorized their looks with sculptural silver earrings that lit up their faces and gave a modern, yet simple, finish to each look. At Nensi Dojaka, chunky silver chains were teamed with silver sequin skirts creating a futuristic, yet playful, look.
While silver made an impact on its own in a variety of sculptured shapes, when mixed with gold or pearls, it looks super modern and forward-thinking is an over-arching theme for the jewelry trends 2023.
"It is the futuristic trend that gives silver its special place in the world of fashion," says Sophia. "The way it can be mixed and combined is very modern and not specific. 
Lucy, whose company Lucy Quartermaine (opens in new tab) is one of the best jewelry brands for silver says while gold has dominated for a while now, silver is becoming ever more popular among her customers.
"We have noticed a comeback with our own jewelry that silver is making a steady incline, which is amazing news for the brand as we specialize in everything silver," she says.
Chloe Moss, the founder of the jewelry label ChloBo (opens in new tab), says she is excited about silver making a comeback as it's such a versatile option when it comes to jewelry.
"I am all about super silver, it always looks classy and never goes out of fashion," she says. "By layering bold and textured pieces together you can create dynamic looks, whether it be neckline, bracelets, or earrings."
While silver looks outstanding against neutral shades such as black, it also looks super pretty worn against soft pastels, such as lilac, one of the biggest fashion color trends 2023.
What to look out for:
Sculptural shapes: Silver looks best when it comes in solid, sculptural shapes. Look out for curved arm cuffs or solid oval pedants. And just as chunky gold chains are popular, silver ones also make a great impact, as seen at Jil Sander.
Hoops: As some of the jewelry trends hark back to the '80s, it's no wonder that hoops are going nowhere this season – and supersized in silver, they look particularly modern.
7. BODY JEWELLERY
As with fashion, jewelry trends are cyclical, so it's no surprise we're seeing some old favorites re-emerging. Back in the early 2000s, body jewelry was incredibly popular, with stars such as Christina Aguilera and Paris Hilton adorning low-slung hipster jeans with body chains as a way of elevating a simple vest top. Well, body jewelry is making a comeback and it's more substantial this time around too.
"Body chains are one of this year's most wanted pieces thanks to the Kardashians and the Jenners, and this is definitely something we are considering exploring," says Lucy.
While Nensi Dojaka sent delicate hippy-like pearl chain belts down the catwalk, David Koma and Stella McCartney created warrior women with full-on body jewelry, designed to be worn alone or over clothes. Whatever style you choose, this style of jewelry is perfect for the summer months – though better for dressing up vacation outfits or wedding looks than to the office. 
What to look out for:
Body chains: Whether you choose bejeweled bikini tops, layers of chains or beaded halter necks, this jewelry trend is almost like armor. For the daring, wear it alone or over a bikini. Feeling more modest? This modern-day chainmail looks great worn over vest tops, t-shirts, or dresses, as at the Rejina Pyo show, to give them a metallic makeover.
Delicate waist chains: A delicate waist chain is a 2023 upgrade for your best designer belt. While runway models wore them around bare tummies – a look that come summer will be replicated with bikinis or swimsuits – they can also be worn over jeans, fitted dresses, or even light spring sweaters until the weather gets warmer.
8. FLORAL DELIGHTS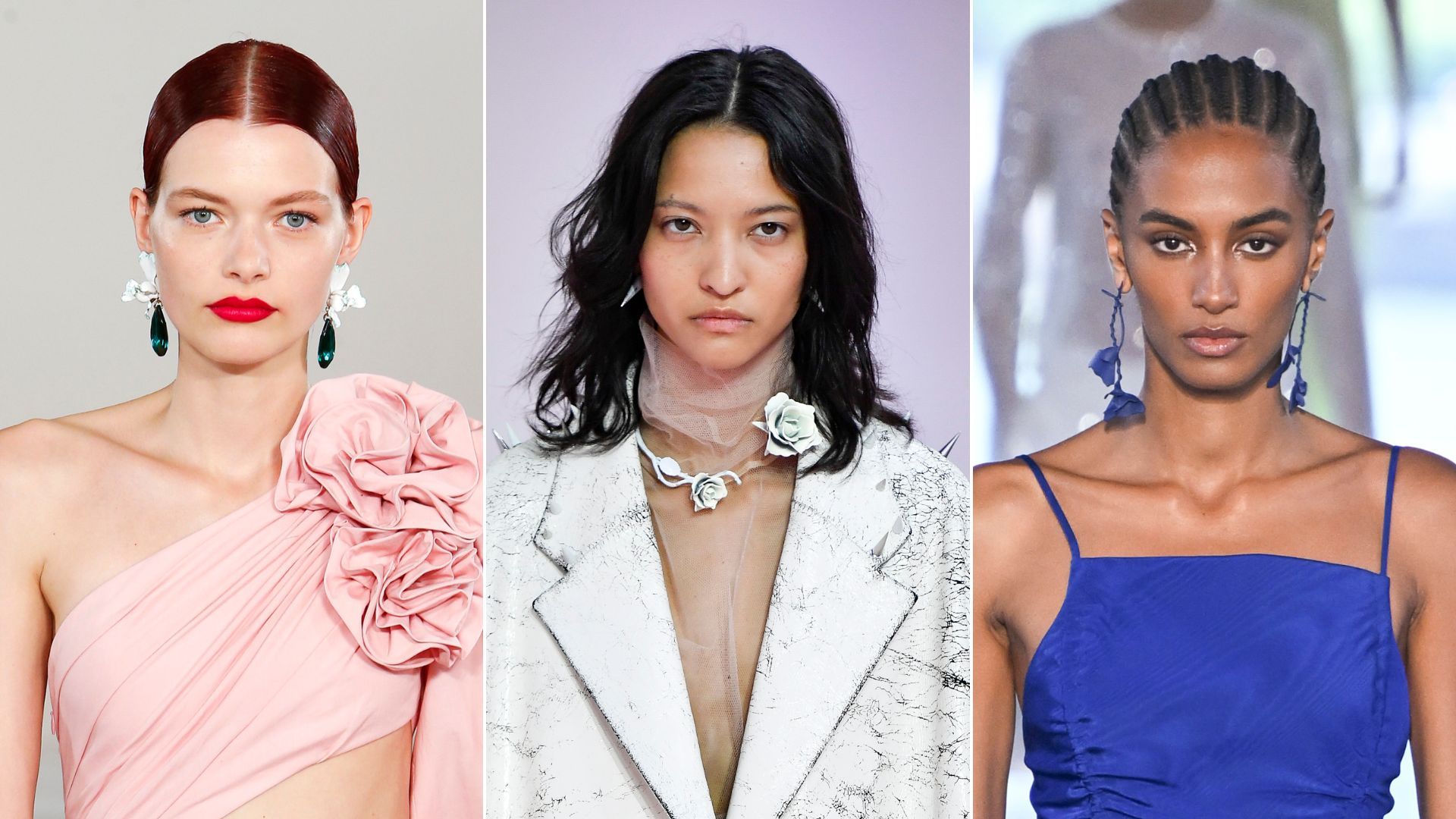 While florals are forever a springtime favorite and are certainly one of the major fashion trends for next season, flowers are not something immediately associated with jewelry. All that is due to change as floral-themed jewelry was a big hit across the runways in all the major fashion cities, with the likes of Carolina Herrera, Acne Studios, and Jason Wu just some of the designers dressing models in blooming lovely necklaces and earrings.
"The trend of wearing floral jewelry is not new and is in fact quite ancient, but due to extensive depiction of flower jewelry by celebrities, it has again become the latest fashion fad," says Lucy, who has seen a rise, particularly in brides choosing floral-themed jewelry for their big day.
As with many of the jewelry trends 2023, there is an added boldness to the look, these flowers aren't dainty and cute, it's all about color, big shapes and making a statement. Caroline Herrera's gorgeous sculptural floral earrings came in an array of shades, while Acne's rose chokers had more than a slight punk undertone. And flowers of course come imbued with various meanings, which could add to the popularity of this trend.
"The flower represents courage and blossoming love, which means it is the perfect addition to any jewelry box," says Chloe, who says it's one of the easiest jewelry trends to incorporate into your everyday look.
What to look out for:
Bold colors: While pretty pastels are normally associated with floral designs, for the jewelry trends 2023 bold colors are the way to go. This is true dopamine dressing, so think bright blue, zingy pink or apple green. This jewelry is worn to be seen.
3D flowers: The flowers for this trend should be as sculptural as possible. The 3D effect looks super modern jutting out from earlobes or as part of an arm cuff or ring.
Oversized: As with all of the jewelry trends 2023, more really is more. Go for XL flower earrings or a large flower on a pendant. Clash with other floral prints for a real 2023 statement look.
Related Posts